TAF's Corporate Compliance Program
Transparency is one of TAF's core values. We are accountable and open in all our business practices, and we are committed to conducting all activities in full compliance with the highest level of ethics and integrity.
TAF's Corporate Compliance Program (Compliance Program) ensures we are operating in full compliance with our Advisory Opinions and other guidelines issued by the Office of Inspector General (OIG) of the U.S. Department of Health and Human Services. In addition, TAF's Compliance Plan provides guidance on how to resolve questions regarding legal and ethical issues and establishes a mechanism for raising compliance issues and reporting possible violations of law or ethical principles within TAF.
TAF Confidential Compliance Helpline:
1-877-778-5463 or www.reportit.net (enter: TAFcares and Assistance)
24 hrs. a day/7 days a week
TAF Compliance Officer:
Linda Howard,

Interim Compliance Officer
407-801-6963
TAF's Commitment to Compliance Best Practices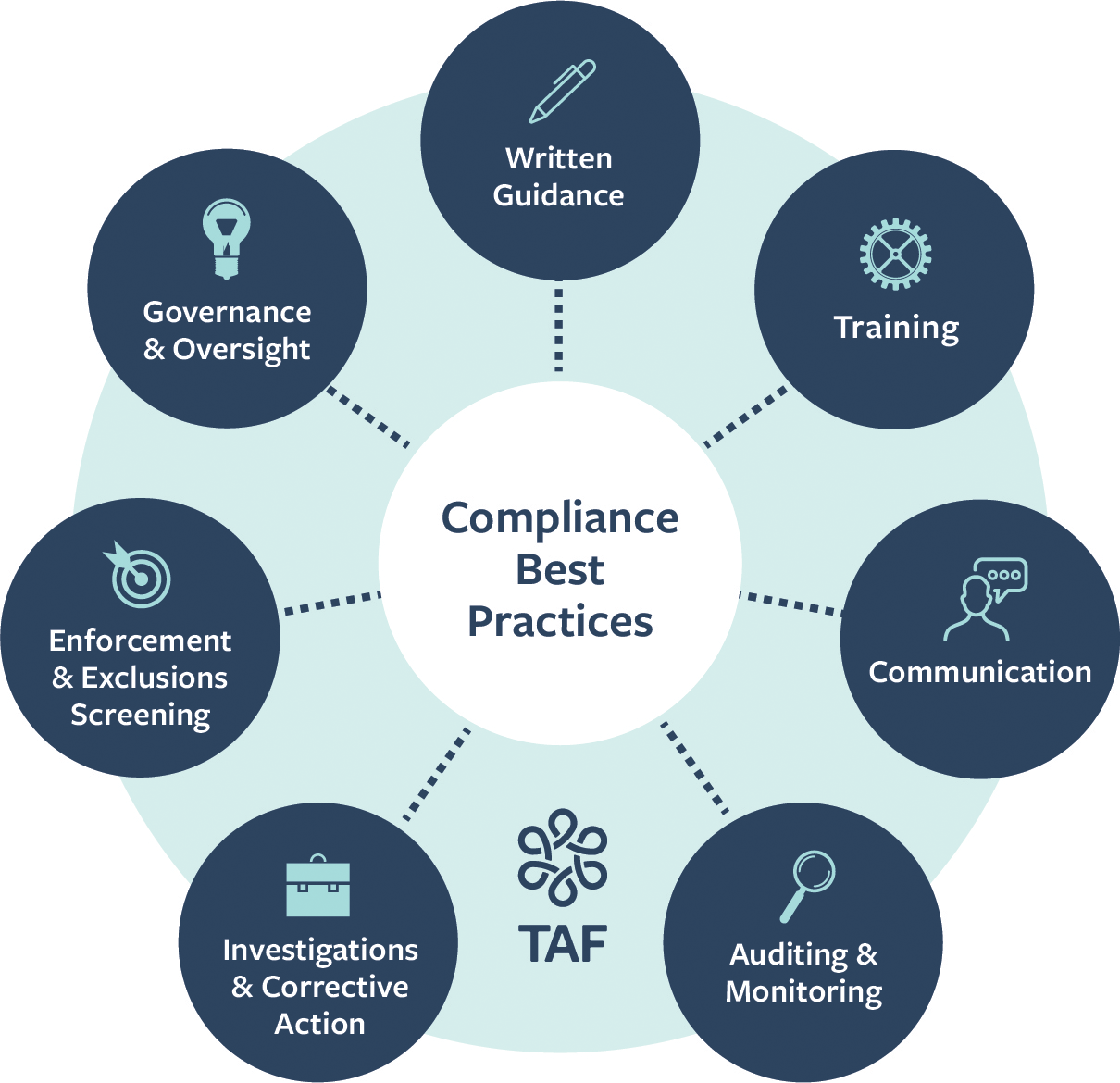 TAF's Board of Directors oversees our Compliance Program to ensure we are adhering to the laws, regulations, and policies that govern our conduct. TAF's Chief Compliance Officer reports to the Board and is responsible for managing and administering the Program. An Executive Compliance Committee supports the Chief Compliance Officer in administering the Program and ensuring its effectiveness.
TAF's detailed policies and procedures address all Compliance Program requirements. TAF's Corporate Compliance Plan: Program Summary promotes proper conduct and emphasizes TAF's duty to ethical behavior.
TAF's employees and Board of Directors participate in annual training which includes compliance program requirements applicable laws, regulations, and guidelines, and how each impact our daily operations.
TAF's 24-hour confidential hotline and website are independently operated. Our no-retaliation policy encourages employees to ask questions and report potential non-compliance.
TAF conducts periodic internal and external audits to assess current systems, processes, policies, and procedures, and proactively mitigates identified risks.
TAF conducts thorough, fair, and impartial internal investigations of reported and perceived errors, abuses, and violations. If an investigation finds an irregular behavior, TAF will develop a mitigation plan. If an investigation shows no irregularity but presents potential areas of risk, TAF will develop proactive solutions.
TAF enforces the standards and procedures of its Compliance Plan and disciplines those who violate the Plan or negligently fail to detect an offense. TAF has a strict policy that prohibits employing individuals or engaging with a vendor who has been subject to exclusion by the OIG.
HHS Compliance Hotline: 1-800-HHS-TIPS (1-800-447-8477)